A crown is a cap that sits over a damaged, misshapen, or discoloured tooth. The crown will look, feel, and function as a normal tooth.
When would I need a crown?
Your dentist may recommend a crown when your natural tooth has been injured, or the tooth has begun to decay.
You often need a crown as part of a root canal treatment.
People also get crowns for cosmetic reasons, such as severe discolouration or a crooked or oddly shaped tooth.
What can I expect during the procedure?
The dentist will either administer a local anaesthetic or, if you desire, IV sedation can be used.
The damaged tooth is reshaped and recontoured for the crown to fit correctly. We take an impression of your tooth so your crown can be fabricated and then your dentist places a temporary crown to protect the tooth structure.
At your follow up appointment, your dentist removes the temporary crown before checking the fit and colour of the permanent crown. If everything is acceptable, a local anaesthetic is used to numb the tooth, and the crown is cemented in place with dental adhesive.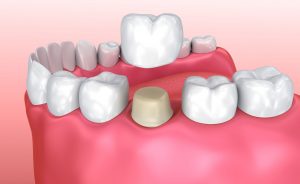 How long does a crown last?
If you properly care for your crown by brushing and flossing regularly and visiting your dentist as prescribed, it can last for at least a decade. The lifespan depends on the amount of wear and tear the crown is exposed to and how well you follow good oral hygiene habits.
Book an appointment by calling Woodbury Park Dental Surgery on 01892 522 297 for a consultation to determine if a crown may be right for you. Whatever your dental health problem, our dentists are prepared to offer a solution.
< Back to Treatments