Veneers are a common cosmetic procedure to cover gaps, chips, tooth discolouration, or slightly crooked teeth.
A short guide to dental veneers
When it comes to looking for a way to straighten minor misalignments, whiten your teeth, conceal cracks and hide gaps in between your teeth there is a simple way to accomplish all of this with a single option; porcelain veneers in Tunbridge Wells.
When you come to Woodbury Park Dental, we can offer you veneers in Tunbridge Wells, which are also known as porcelain laminates to whiten your teeth instantly and to provide a simple way to conceal cracks, chips and other minor aesthetic issues that you may have.
What are veneers made of?
Veneers are very thin strips of ceramic material, the same colour as your teeth. Your dentist removes a thin layer of tooth enamel, takes an impression so your bespoke veneers can be fabricated and then cements them to your resurfaced teeth.
What are laminates?
Veneers are used in a cosmetic procedure which is designed to conceal gaps, hide chips or to alter the shade of your teeth and create a better symmetry to your smile.
They are thin pieces of porcelain which are attached to your teeth using gentle abrasion and dental cement. The fitting of laminates can be completed in a single sitting, but when our team is assessing your suitability for veneers in Tunbridge Wells, we will take a 3D scan of your mouth and this will be sent away to a laboratory for the laminates to be created.
What they can treat
They can treat gaps in the teeth, correct misalignments (as long as they are minor) and they can conceal cracks and chips. The main use of them is to whiten the teeth. If you want a Hollywood smile and are not eager to undergo bleaching or traditional whitening, then laminates may be the solution you're looking for.
Suitability
When our team at Woodbury Park assesses your suitability for laminates, we will need to consider the thickness of your teeth, as part of the enamel will have to be sanded off to attach the cement and then the laminates. We will also need to ensure that there are no signs of dental decay or gum disease, as both of these can cause issues with the laminates falling off prematurely.
Longevity
Provided that you maintain your laminates with daily brushing, flossing and check-ups with our team every 6 months, they can easily last up to 20 years, making them a great investment in your smile.
So, if you want to learn more about the possibility of having porcelain laminates fitted, please contact our team at Woodbury Park today for more information.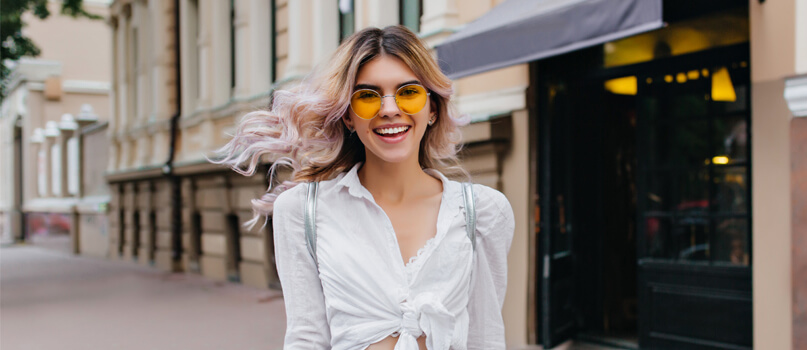 Veneers can immediately and dramatically change your smile, but they are irreversible.
contact us on 01892 522 297 or book your appointment online to discuss your options for enhancing your smile and boosting your self-confidence.
< Back to Treatments