At Woodbury Park Dental, we offer a game-changing new cleaning treatment called EMS Air-Flow.
This new Airflow teeth cleaning treatment will remove stains on your teeth, giving you a brighter and healthier smile that feels cleaner than ever before.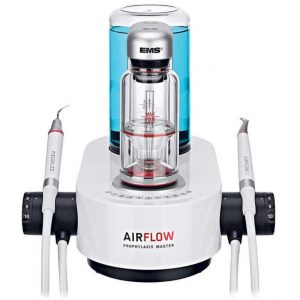 The innovative spray technology can access all those hard to reach areas. It effectively removes the damaging biofilm that develops above and below the gum to improve your oral health and help you achieve a brighter smile. Airflow therapy can remove this painlessly and prevent it from becoming harmful for up to 90 days.
Airflow therapy is a hygiene treatment that removes persistent stains on your teeth, plaque, and discolouration using a combination of water, compressed air, and fine powder particles. These three components are combined in a high-powered jet which gently removes stains from your teeth including hard to reach areas as well as biofilm from above and below the gum line. Dental plaque is a biofilm of harmful bacteria that grows on surfaces within the mouth.
Click here to download Airflow brochure
It can remove a heavy build-up of plaque faster and more easily than a scale and polish
Pain- free treatment
It can remove stains on your teeth
It also reaches into periodontal pockets to eliminate bacteria that can cause significant dental problems
Prevents tooth decay, gingivitis, and periodontitis (gum disease)
Makes tooth brightening procedures more effective by removing build-up that could hinder the process
It is a minimally invasive and comfortable procedure
The unique temperature control allows the use of warm, eliminating sensitivity and discomfort
It's an ideal option for children, especially those with fixed orthodontic appliances
Your smile will be brighter and healthier after a single visit
It can be used on veneers, crowns, bridges, and implants.
For an appointment contact us at 01892 522 297 or book your appointment online
Good dental hygiene means you brush your teeth at least twice a day, and you clean in-between the teeth with dental floss or interdental brushes at least once per day.
An essential component of dental hygiene is ensuring you see your dentist at your recommended recall frequency for a dental check-up, and you have regular professional cleanings. As we treat every patient as an individual, we tailor your dental and hygiene recalls to reflect your individual oral health needs.
What does a hygienist do?
Your hygienist will conduct a medical history review and discuss any concerns you have about your oral health before performing a visual gum tissue check.
This is followed by a gentle but thorough cleaning of the teeth and gums by the gold standard EMS airflow system. The system also rapidly removes surface stains.
A hygienist can also give you advice on how best to clean and floss your teeth at home in addition to answering any other questions you may have about keeping your teeth and mouth clean and healthy.
Is it true that poor dental hygiene can affect my overall health?
Studies have shown direct links between poor oral health and diseases and conditions like heart disease, arthritis, diabetes, and stroke.
If you are ready to take care of your oral health, book an appointment with our hygienist for professional teeth cleaning or one of our dentists for a dental exam by calling us on 01892 522 297.
< Back to Treatments