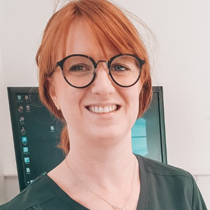 Dr Fiona Thompson
Dentist
GDC No. 177473
Fiona graduated from the University of Sheffield in 2009. She worked in large multidisciplinary practices in Essex and South West London before joining the team at Woodbury Park.
Fiona is a caring professional with a passion for high-quality general dentistry. She takes a holistic approach to providing dental care and believes in providing excellent communication and treatment planning to meet each patent's individual needs.
She loves treating children and takes time to establish a rapport that will allow a positive attitude to oral health going forward and to ensure her nervous patients are put at ease with her gentle approach.
She is also interested in providing aesthetic treaments such as cosmetic orthodontics including invisalign and minimally invasive procedures.
Fiona believes strongly in furthering herself through continuing post graduate education and has done this through gaining qualifications such as Membership of the Joint Dental Faculties and frequently attends courses on all aspects general practice. Outside of dentistry Fiona is kept busy by her young family but enjoys tennis, skiing and reading if she gets a spare minute.
< Back to Team